Use this website on your computer or mobile internet device. Please log in to access your account. If you have forgotten your password, click here to reset.


Please read the instructions below before proceeding.
Step 1: If you have not already done so, update your profile:
Click Account at the top of the page
Click the Edit links on the left hand side and add your company profile, logo and/or a photo of yourself (.jpg or .png, max. filesize 1Mb).
Add tags to your company from the list provided and fill in the 'Looking for . . .' section to make sure you attract the right meetings
Step 2: Arrange meetings:
Click on 'Search' in the top menu to view the companies list. Click 'List Bookmarks' at the left of th epage to retrieve any attendees you previously bookmarked.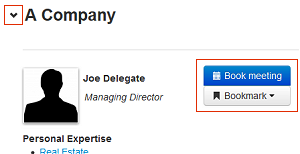 If you are a Seller, you can request meetings with other participants.
- Click the down arrow at the left of each company name to open their full current profile.
- Click their 'Book meeting' button to start the meeting request process, then follow the on-screen directions.
If you are a Funder, you can only receive meeting requests from Sellers. Check your meetings console on the home page for requests requiring your response. You can view Sellers' profiles but you cannot request meetings with them.
Note that some delegates are attending only the AM or PM sessions. Attendance times are displayed in each delegate's online profile.
There are 2 meeting sessions:
AM: 9.30-12.45am, with a coffee break 11:00-11:15am
PM: 1:45-5:00pm, with a coffee break 3:15-3:30pm.
Step 3: Manage your schedule:
Click 'Schedule'in the top menu bar. Your AM/PM availability is preset, but if there are any additional times when you will not be able to have meetings, please make yourself unavailable by clicking the toggle icon on the affected timeslots.
The online system sends an email to you and your meeting partner(s) every time you request, confirm or cancel a meeting and you will also receive email requests from other participants. Messages are also displayed in your Messages area. To view and respond to your pending meetings, return to the homepage when you have logged in, or select 'pending meetings' on your Schedule page.
Not getting emails from this scheduler? Emails are sometimes filtered by your provider, corporate IT or application settings.
If you need assistance please check our FAQ guide. If you do not find the answer there please email: intex@thechildrensmediaconference.com.